sparrow's at your finch bird feeder?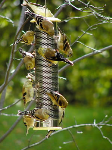 No, these aren't Sparrows, but American Goldfinches in their drab winter plumage. A customer contacted me yesterday to see what could be done about the problematic House Sparrows in her yard. She said there were so many of them that the Goldfinches couldn't even get near her finch bird feeder if they tried!
Although I'm not sure why, some folks admire and encourage House Sparrows… maybe it's because that's the only birds they can attract to their habitat? A non-native species (they should round them up and deport them back to Europe) along with Starlings, they wreak havoc on our native song birds. Bluebirds have no chance with sparrows around, and tree swallows too will lose out to sparrows for nesting cavities. Whole colonies of Purple Martins are chased away by sparrow invasion. I know there are no "mean birds" but sparrows instinct for survival is brutal with actual maiming and killing of nestlings and adults for use of the nest box.
So if you're unlucky enough to have them in your yard… how do you get rid of them? First start by taking away the "welcome mat". Try to remove the things that are attracting them, at least temporarily. Birdbaths should be emptied, and feeders taken down. I know this is a difficult task, but food in the wild is plentiful this fall (in most parts of the country) and it's only for a short time, encouraging the sparrows to move on to other digs. Use quality birdseed too, it does make a difference. A mix that has a lot of corn or millet in it will also attract more "undesirable" birds.
Another option if you're looking to attract Goldfinches only, is an upside down finch bird feeder. These are one of very few birds who will actually eat while perched upside down. And it's not a bad thing… just being more selective about the beaked buddies you're attracting to your yard!