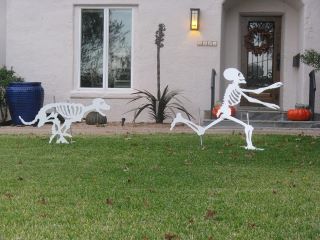 This photo was floating around on Facebook and well… I just couldn't resist! Likely one of the coolest Halloween displays I've ever seen.
This post was supposed to be on bat houses because October is supposed to be about bats. Maybe because birds are ignoring feeders and eating the bountiful harvests (in most parts of the country anyway). Texas, I feel for your wildlife and ranch animals too… so so sad. No hay, no water, nothing but parched land.
So, October and bats and Halloween… they're always portrayed as some scary winged creatures, when in fact they're pretty harmless. Vampire bats who suck blood exist only in very few places in the whole world. Bats are very beneficial to have around your place, just a small colony can eat tens of thousands of mosquitoes and pests in a night. If you happen to live around a lake or pond you've got an advantage for attracting them. Bat Houses offer roosting spots for just a few fellas, all the way up to whole colonies, which are usually around 100 to 300 bats in residential areas.
Wishing everyone a safe and happy Halloween, from me & Shwuppy, the chicken dog!