Multi-Purpose Seed Catchers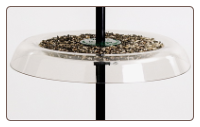 A wild bird accessory that does more than one job?
One of the great thing about seed catchers is that they serve more than one purpose. First and foremost, they prevent ground waste, which in turn prevents weeds from popping up in the garden or lawn. This also creates a healthier habitat for backyard birds. Larger seed catchers also serve as platforms for other birds to feed on the fallen seed. Those who may not perch at the feeder itself, are apt to dine on the large, flat area. So you may end up attracting some new bird species.
This large 18.5-inch seed catcher is made for a any standard one-inch diameter pole. Because of the innovative design, it also acts as a squirrel baffle, and a good one at that! When squirrels shimmy up the pole, they can not get past the down-turned rim on the seed catcher. Like all Droll Yankees' quality birding products, this seed catcher ensures many seasons of use and enjoyment. Bye Bye squirrels!