Sexy Centerian Likes Window Bird Feeders!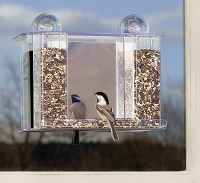 On the checkout page, there's an option for a message if the item is a gift. So I was delighted and a bit astounded to actually see the note "Happy 100th  Birthday!"
Yes, Roland is turning 100, and it seems he likes window bird feeders. A gift from five women friends –  now I'm thinking this guy must be cool! They say he loves to sit and watch his birds.
For seniors, a great gift idea indeed! Do they really need more stuff to clutter their spaces? Or more clothes just to sit around the house? Bird watching keeps the mind active, and the interaction with nature has an amazingly positive effect on whatever ails the mind. More and more senior centers and assisted living residences realize this fact and have started using bird feeders to enhance the lives of their residents.
Happy 100th Roland…and many more!