Recycled Finch Feeders for Earth Day & Always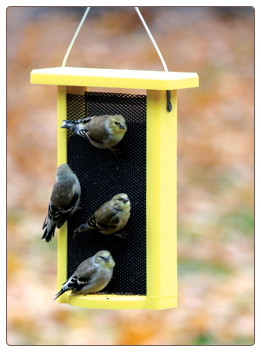 Happy 41st Birthday Earth Day!
Recycle and Reuse… that's the deal to minimize your carbon footprint. In all facets of life-including backyard birding, there so many recycled products from which to choose. Recycled plastic finch feeders, and every other kind of feeder and birdhouse seriously help to keep plastics out of our landfills.
A recycled bluebird feeder I purchased a few years ago came with a sticker saying how many plastic jugs were used to make this item. It wasn't a "stock" sticker either, because the number 33 was hand written on it. Besides that… the feeder still looks brand new after three years!
These new recycled finch feeders are pretty cool too as they feature "all-over" feeding space. Unlike traditional tube feeders that have perches, these finch feeders have something called "magnet mesh" which is very attractive to clinging birds such as finches.

Consider making your next finch feeder, oriole feeder, bluebird or woodpecker feeder a recycled plastic one. The non-porous surface is easier to clean and minimizes mold and bacterial growth. They won't warp, crack, split or fade, and it's likely the feeder (or house) will still look new after several years of use. Recycled is a wise investment and saves money in the long run because the product lasts!