peanut bird feeders also squirrel feeders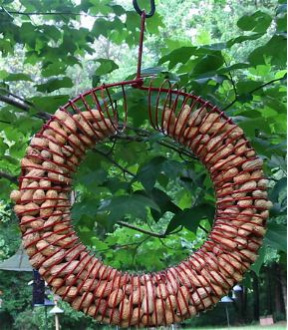 That's a red wreath peanut feeder. That photo was taken in or yard, so when it showed up on a famous auction site (without permission) we were sort of annoyed. That peanut bird feeder also appeared on our website about four years, prior to any distributor's offering. Of course we wrote the description… where else would it come from? The peanut bird feeders were being sourced at a full-pop retail price from a local birding store! Why? It was something very unique at the time, and to keep it that way, we offered the item assembled, filled with peanuts, and ready to hang, most times including a few extra pounds of peanuts… for free. And the secret for easily filling it was included in our hand written cards.
Now, when placing it in the bird feeders category, we thought this would also make a great squirrel feeder since the critters are so fond of whole peanuts. Being metal, there's nothing for them to chew on thus destroying the feeder. So… we said "feed birds or squirrels or both". And you know what happened? Other sites started describing the same thing… in the exact same words. And all that's ok, except when SE don't recognize from where the content is originated.
Regardless of all that (sorry-just had to vent) the peanut wreath is a fun design that offers huge versatility. If you'd rather not have squirrels raiding your peanuts – simply add a baffle. The coil design is perfect for offering nest materials in early spring, as well as fruit in summer to attract migratory birds.
That's about all we'll say for now on these peanut bird feeders.