Others partaking in squirrel feeders and more!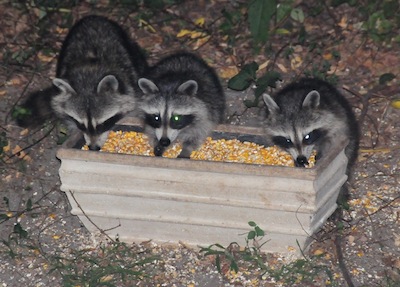 Now somewhere in the black mountain hills of Dakota… no, actually in any suburban yard you'll find other furry guests searching for good eats!
Placing squirrel feeders or any wildlife feeder for that matter does have it's ups & downs. There's also quite a bit of controversy over attracting and feeding wildlife in residential areas. But you wouldn't think feeding a few squirrels would be any big deal, right? Right… it's not, except when larger critters start invading those feeders-and your other ones too.
Even the long-lasting corn logs used on the bungee squirrel feeder are disappearing! Now these are compressed corn, and equal to about twelve ears of regular corn cobs. They usually last at least a few weeks… but whole logs are disappearing. You can bet that's not the work of hungry squirrels!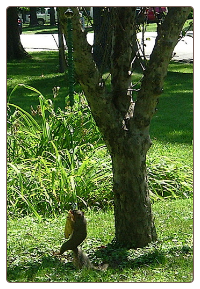 Since it's a busy time for hummingbirds with their migration south, extra hanging feeders have been placed on the deck to accommodate the crowds – we're up to seven of them now! Still being warm in GA, the nectar needs changing every few days, but we don't mind in the least because the tiny sprites are so mesmerizing to watch. What we do mind however, is having to take those feeders in at night!
In all the years of offering nectar, nobody's ever bothered the feeders, except maybe a few ants or bees from time to time. Well, somebody's being a real pain in the butt this year, as broken feeders and sticky nectar all over the deck have been discovered twice last week. We've heard of folks having to bring in seed feeders at night due to bears, but we've never encountered a problem with nectar feeders before. Taking them all inside at night, then getting them back out early in the morning as hummingbirds are screaming for their food is a real pain! Just add it to the list of what we crazy folks are known to do for our birds!