What Makes them Unique Birdhouses?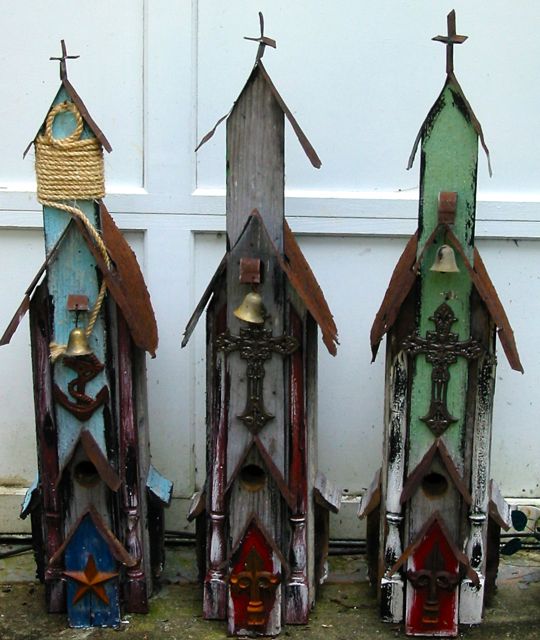 Up-cycling seems to be a popular word these days, in fact it's even a trend. The art of re-purposing, recycling and reusing materials and things to make new and useful things. From the artsy perspective, most of it centers around vintage finds, so it's no wonder new stuff is made to look old and worn. Even designer jeans with their acid washes and holes can fetch a few hundred bucks!
It's part of what makes these unique birdhouses appealing. But why? First and foremost, you won't find them stacked on shelves in a huge fulfillment center awaiting mass purchase and shipping! Because they're handcrafted from scraps and vintage materials, no two are ever even the same. That's makes them pretty unique right there.
A primitive or folk art design is usually timeless, not a phase that's here and gone. In fact these houses are actually designed with birds in mind (yes, many designs don't even take birds into consideration).
Some of the bird-friendly features are:
A screen set above the floor. This makes it easier for mom to construct her nest with less material, it allows circulation and inhibits insect infestations which can be fatal to new hatchlings and nestlings.
Locking door on back for easy clean-out. If nests are not removed after babies have fledged, many birdhouses are deemed useless. Very few birds will re-use an existing nest. Also, removing the nest provides another spot to raise young for those birds who have two or three clutches per year. In fall when nesting is through, the house provides a roosting spot for cold nights, and protection from predators.
Proper ventilation and drainage are important things in the nest box world, and many designs don't even address the issue. Placement of entrance is a big deal too. The hole should never be at the very bottom where predators have easy access. And the size of the entrance matters as well. When you see little tiny houses with large entries, or huge birdhouses with little tiny entries, well… this makes no sense, and it's not good for the birds 🙁
This artist is local, which to me is a positive aspect on many levels. These reclaimed materials have been outdoors withstanding elements for a long time, which means they'll continue to do so over the years. Now that's good for the environment, good for the local economy, and above all… good for the birds!