ok… they're back and the nyjer feeder is mobbed once again!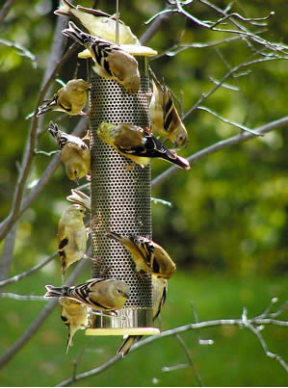 Although American Goldfinches may not be sporting their electric yellow plumage just yet, it's only a matter of time. All of a sudden, they're back… and in droves! I'm not exactly sure where the masses went, because we had tons of them last summer. However, it was great seeing the nyjer feeder so crowded yesterday. Their influx started last week some time, and it was out of nowhere?
I had to call my friend (Diane) whose husband recently got into the backyard birding thing. He just wasn't seeing any birds, and didn't believe me when I told him there are tons of birds around right now. While I was at their house recently, I glanced over the landscaping as if I were a bird myself. Lots of mature trees and shrubs around, a killer rock water feature, and then I noticed the feeders. Now if I were a bird this place would not be my choice restaurant! The suet was covered in greenish-black mold, and the nyjer feeder…. well, let's just say it looked like some kind of science experiment growing funky bacteria!  I phoned her yesterday to let her know the finches were back in town and they must have a squeaky clean feeder with fresh nyjer seed or the Goldfinches wouldn't visit. Mission accomplished… Diane got right to work cleaning the nasty feeder, and I know because she called me back to ask about taking it apart. Dumb stuff like that makes me happy.
Now, if you really want to see that electric yellow plumage before the Goldfinches actually molt in spring, (a process that sheds old,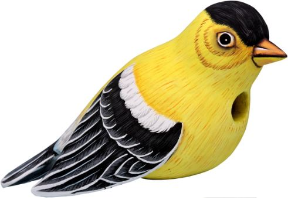 tattered feathers and replaces them with pretty new ones) then check out this cool Goldfinch birdhouse, he never requires a nyjer feeder! He's hand carved and painted, complete with clean-out, and provides a real nesting site for Chickadees, Nuthatches, House Finches and other smaller songbirds.
Oh yeah, I almost forgot, the nyjer feeder shown above is a stainless steel model by BirdsChoice. Although it only holds one quart of thistle seed, it accommodates lots of finches with its "all-over feeding" design. No waiting for open perches… just claim a spot anywhere on the feeder!