a great explanation on bird cams and expanding viewing capabilities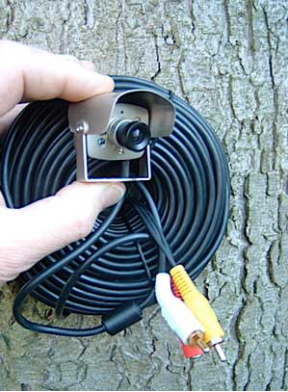 In the "Bluebird Monitor's Forum, there recently appeared an interesting post about bird cam installation and viewing capabilities/preferences. The "away-signature" cracked me up.. because I can so relate, and likely many other folks out there in cyber-world. It said "Using yesterday's software to create tomorrow's problems today!" Hah… isn't it the truth with the ever-changing technology?
Instead of interpreting, and providing a narrative, for optimum clarity I'll just re-post what this person's experience and solution was:
"I acted upon the recommendation of the Hawk Eye Night Owl Bird Cam and installed one in a new and taller chickadee box which hangs in our front yard. A Black Capped Chickadee scolds me every time I get near the box.
The bird cams 100′ long cable was then strung into the garage, where I asked myself what next? The camera's composite video could be plugged directly into a number different devices permitting viewing/recording, but this is the age of the internet–I wanted to view/record the video from my computer.
Since I already had a Ethernet hub in my garage which is connected to my LAN, I wanted a use an affordable video server plugged into this hub. The answer was solved by purchasing an IP Video 9100A Plus Network Video Server.
http://www.amazon.com/IP-Video-9100A-Network-Server/dp/B000HBVTCA/ref=sr_1_1?ie=UTF8&qid=1327004024&sr=8-1
Basically the camera's video and sound plug into the 9100A, and it plugs into the Ethernet hub. Once all is connected and setup, the camera's video can be viewed/recorded from your web browser (preferably Internet Explorer). The sever can be setup to detect motion, and when motion is detected, send an e-mail, and/or FTP images to a server. The server could actually be set up to permit viewing anywhere in the world. The 9100A actually has 4 video inputs, but only 1 sound input (hmmmm?).
I'll not go into further detail unless asked, but I would advise anyone purchasing the device to be skeptical of the quick setup instructions that come with the device. The installation manual was not written/edited by someone whose primary language is English. Knowledge of IP devices helps.
But it does work!"