keep water moving… even in a hanging bird bath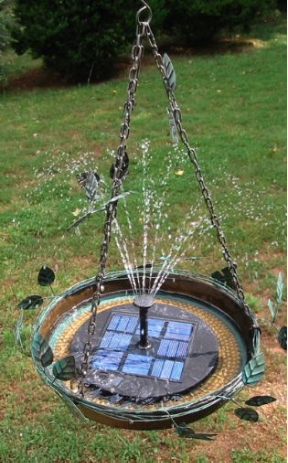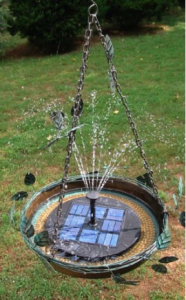 An essential element for life, like the air we breathe, water is a simple, inexpensive way to entice more birds to your yard. Many species who don't visit feeders or use nest boxes will frequent a bird bath. The only responsibility with a pedestal, ground, or hanging bird bath is keeping the water fresh, not only for birds, but for other health reasons too.
Recently the New York Times reported that in the Long Island area, the health department has actually been checking residents' birdbaths and imposing fines for dirty bath water… no kidding! Four people have received hefty fines too-as the city is taking the situation quite seriously.  The reason is stagnant water and the fear is the dreaded West Nile Virus spread by mosquitoes.
It doesn't matter what kind of birdbath you have, or may be planning to purchase in the future. There's a simple solution to avoid stagnant or standing water, and that is to keep it moving! Known fact: Mosquitoes can not lay eggs in moving water. Bath accessories like Water Wigglers, fountains, bird bath drippers, and leaf misters all keep water moving… and the birds absolutely love them! These create visual magnets for avian friends, and they run on batteries, solar power, or from the garden hose. Plus they're simple to install and keep bath water cleaner longer.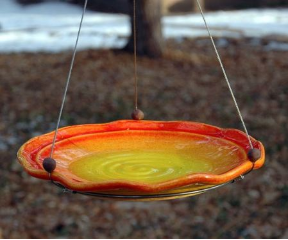 Take a plastic, gallon milk jug and create your own dripper that works great, even in a hanging bird bath. Simple to do and very inexpensive, pierce a pin hole in the bottom corner of the jug. Secure the jug (through the handle) to a sturdy branch above the bath using rope, wire, or even a large S-hook. One gallon of water dripping through a tiny pin hole will last for days! Simply refill the jug for continued use. The movement will catch birds' attention, and keep mosquitoes from laying their eggs. It's a win-win situation for all!