feature-rich, classic tube bird feeder hangs or pole-mounts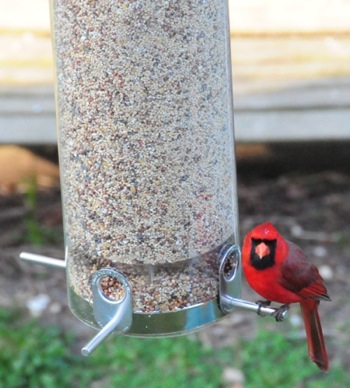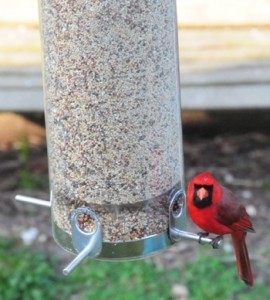 You know those plastic feeders we always see at discount and "big-box" stores, they're inexpensive and will serve the purpose… for a little while anyway!  But soon the cheap plastic clouds and yellows, perches break, and heaven forbid if a squirrel should get hold of your new tube bird feeder… it's a goner 🙁
Well, here's a tube feeder with quality to last a lifetime, squirrel-proof features (sans the ugly cage), and twenty years of proven performance. The Classic Feeder is designed with a built-in squirrel baffle to foil the pesky critters permanently. With hanging or pole-mount options, it's too tall and too wide for squirrels to reach the seed ports from the top on the hanging feeder, and from the bottom of the pole-mounted feeder.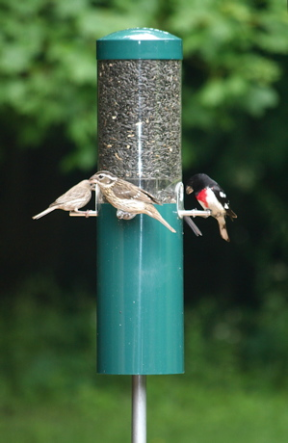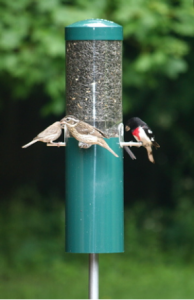 Poly-carbonate casing, with a baked enamel lid and baffle, plus stainless steel perches, all promise this tube bird feeder will be around for many years of use for feathered friends. There's even an attractive weather guard to protect seed from the elements, and it won't hinder your views of dining birds either.
Ample perches provide easy access for many birds who aren't commonly seen at tube bird feeders, and the large capacity cavity means less filling and more time watching. Even the pole is included on the post-mounted version! Accommodating black oil sunflower, or a bevy of other seed mixes, the Classic Feeder is truly a shining gem among all those tube bird feeders out there!