Grande Copper Hopper Bird Feeder for Mom!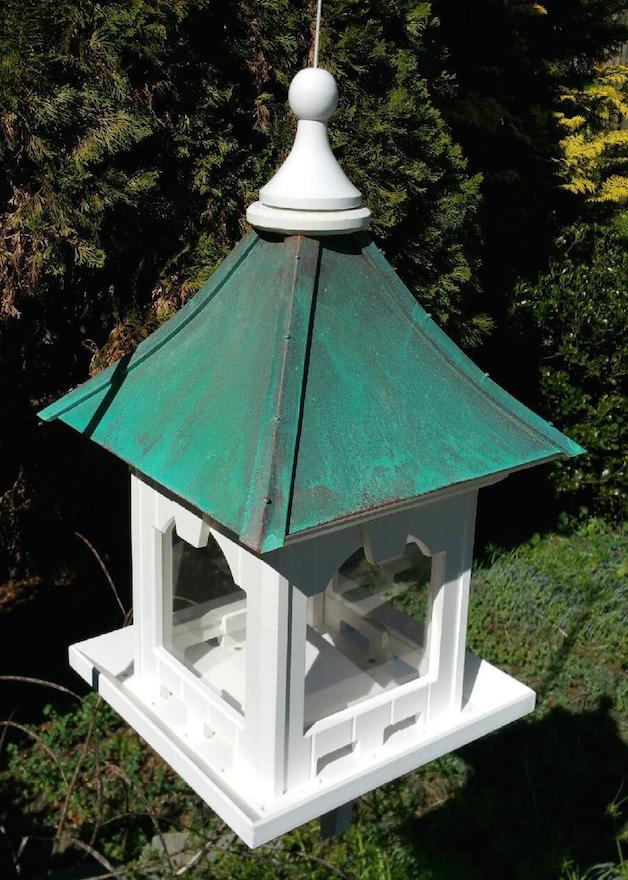 A most awesome Mother's Day gift, it hangs, it post-mounts, it holds 10 lbs. of seed… or even 20 lbs. for the serious backyard birder! Clean it with a forceful spray from the garden hose, it won't hurt these large capacity hopper bird feeders.
She'll use this gift everyday, even if  just a glance out the window at her busiest or most hectic times. A glimpse of nature in action has the uncanny ability to soothe the soul and calm the nerves… bird folks know this truth to be self-evident!
The hoppers are vinyl (like the siding on houses) so they really do last a lifetime, no cracking, fading, peeling or mildew. Handcrafted in the USA, and bird-approved, they're easy to fill and clean via lift-off roof and/or pop-out finial.
Generous seed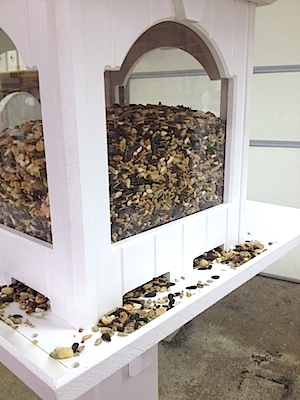 ports on 4 sides allow for chunkier seed mixes which may contain peanuts (yum) and lots of perching space to accommodate several takers at once. Expect chickadees, cardinals, titmice, nuthatches and all the usual suspects for dining in high style.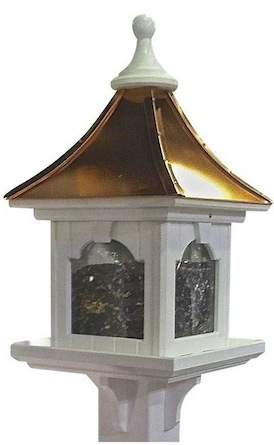 The post-mounted hoppers include decorative brackets (also done in vinyl/PVC) that slide on a standard 4×4 post. Shiny copper roofs remain that way for a minimum of 3-4 years before they start to weather and become dark. Aged patina roofs (shown above) are created using an acid wash with heat process and remain this way indefinitely. To clean environmental build-up, a soft soapy cloth and garden hose do the trick nicely.
But ya can't wait till the last minute as each one is made to order! We're getting them out the door within 1-2 days to make lots of Moms really happy next Sunday, but remember all the moms and all the packages being sent next week. Shipping services become inundated and standard delivery times may fall short of what's promised.
So shake a tail feather and make this Mother's Day extremely special with a hopper bird feeder that guaranteed for life, she'll never, ever paint, repair or replace this one!