Give Peanut Butter with Squirrels Feeders – Gift Idea #3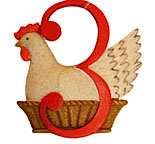 For the next 9 days or so, we're suggesting some swell gift ideas for nature lovers on your list! Each icon representative of the Twelve Days of Christmas – at the end of the post, see the true meaning of the words to the carol. Since the festive tune features 6 days of birds… we deemed it most appropriate for the season!
Since the dawn of feeding wild birds, squirrels have been a big part of the picture! Love or hate them, there's actually an easy solutions to both sides of the coin. Although a nightmare for some, many folks adore the critters and their antics and actually feed them, squirrels even have their own dedicated national holiday!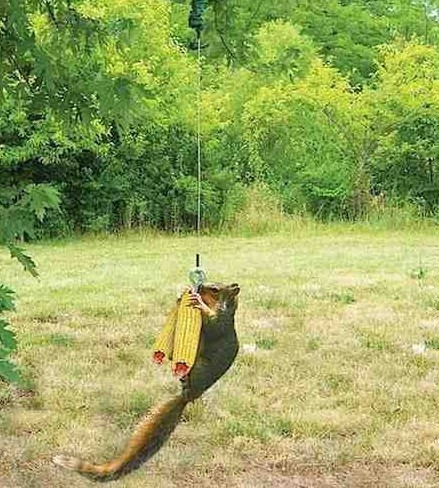 Squirrel feeders provide hours of entertainment for hosts and users, and they help deter said users from raiding bird feeders. For a really special treat, you can smear some peanut butter on the corn. The extra fat and protein keeps critters warm overnight.
To stump someone and keep them guessing… buy a small jar of peanut butter and place it in their stocking. When they find it, you can bet their thoughts will be something along the lines of "what the heck?" 🙂
Several fun squirrel feeders are in stock for immediate shipping; ones that spin, the classic table & chair, the popular bungee cord, and this groovy combo feeder for corn cobs and peanuts. The latter being for gourmets only! It's a fun & functional gift that gives back, it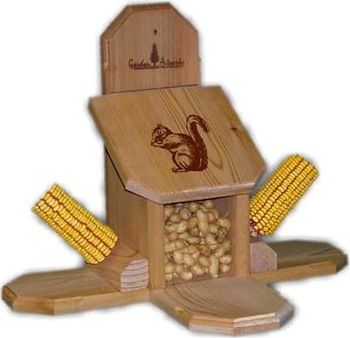 gets used everyday and provides some real entertainment.
Three down… with 9 more fab gift ideas coming!
Okay, the 3 French Hens: symbolize faith, hope and love.