Copper Roof Bird Feeder by Christmas – Gift Ideas 4-12!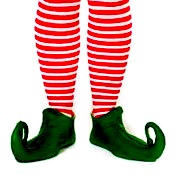 Oooh man, the elves have been busy! For anyone following the gift ideas, so sorry we dropped the ball, but getting gifts out the door for timely delivery was far more important!
And speaking of timely delivery: If you happen to be local in the Atlanta area, our elves will be delivering on Christmas Eve too! So it's not too late to procure a smashing gift that not only lasts a lifetime, but promises wide smiles as well.
YOU CAN STILL GET IT BY CHRISTMAS: Simply order a copper roof bird feeder (or dovecote birdhouse) by 2:00 p.m. Thursday afternoon… and receive it in just a few hours! The sleigh is packed, and the reindeer and helpers are ready to deliver some major cheer! We're not sure who in their right mind would brave the mall or stores tomorrow? Especially when a most awesome gift will magically appear on your door step! Well, maybe not that magic… you do have to pay for the item… but local and timely delivery is on us!
And to finish… here are the remaining verses' true meaning of the popular Twelve Days of Christmas:


Four Calling Birds The four Gospels of Matthew, Mark, Luke & John


Five Golden Rings The Torah or Law, the first five books of the Old Testament


Six Geese a Laying The six days of creation


Seven Swans a-Swimming  the seven-fold gifts of the Holy Spirit: Prophesy, Serving, Teaching, Exhortation, Contribution, Leadership, and Mercy


Eight Maids a-Milking the eight Beatitudes



Nine ladies Dancing the nine fruits of the Holy Spirit: Love, Joy, Peace, Patience, Kindness, Goodness, Faithfulness, Gentleness, and Self Control.



Ten Lords a-Leaping the ten commandments



Eleven Pipers Piping eleven faithful disciples



Twelve Drummers Drumming the twelve points of belief in the Apostles' Creed.
Not too shabby for a jew, huh? But pretty sure somebody messed up those last two icons!
Religious persecution (what a surprise) spawned the carol, and history says from around 1558 until 1829, Roman Catholics in England were not permitted to practice their faith openly.  The famous song was written as catechism for young Catholics during the holiday season. With two levels of meaning: the surface, plus a hidden meaning that was only known to members of the church. Each element is code for a religious reality which children could easily remember.
We wish for you the merriest of holidays,
filled with light, love, laughter, family… and birds!
The Birdhouse Chick