Can You Spot the Thistle Feeders?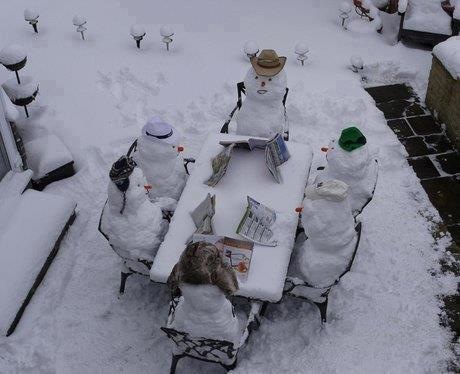 Me neither as they must be covered in snow and awaiting the big thaw. So this is April? Wisconsin, Minnesota, somewhere like that. Goldfinches are already shedding worn winter feathers and turning yellow, while other common resident birds are nesting in much of the country. Once again, will winter ever end?
Yesterday brought our first butterfly to the yard, but unfortunately the consecutive, way below normal night temperature this year zapped established lantana that was seven years old. You could always count on butterflies around those shrubs. Yes, that's how big they were, mature shrubs.
Erratic weather is largely attributed to climate change, but many folks don't see it that way. Mudslides, volcanoes, drought and rising sea levels to name a few effects are pretty apparent and scarily becoming the norm.
In the bluebird world, trail monitors found a record number of dead bluebirds in the KY area. A very late spring being the culprit after such a rough winter… there were simply no natural food sources available. Someone was inquiring about a feeder the other day and said "no rush, it's for next year, we don't really feed birds in summer". We've come across many folks like that, but here's the reality: weather directly affects food sources and bird's survival rates.
Last summer through a wicked drought, we witnessed a male cardinal feeding a fledgeling from a platform feeder containing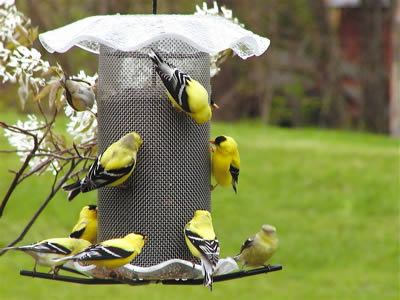 sunflower hearts. From ground to platform and back he flew feeding his offspring. It was a strange sight, as others were reported this winter too.  Cardinals hanging on suet feeders, and ground-feeding juncos up at black oil feeders. Many of the migratory birds were in for a harsh surprise upon arrival into the gulf states. No flowers, no berries, no insects, simply an equation for starvation after a long journey like that.
Closer to home, resident birds braved a very tough season as well. Feeders were non-stop with activity for the most part. Although thistle feeders didn't see too much traffic, other feeders containing finch mixes did… and a lot! Once the olive drab fliers began their molting process, straight nyjer became goldfinches' food of choice and overnight, thistle was and is being devoured daily!
The good news is this seed has come down in price a little bit, and if you can manage the larger bags, like 20-to 40-pounders, you'll save even more money this summer. Unlike other birds, goldfinches feed nestlings and fledgelings thistle-almost exclusively.
So if you're not really a "summer feeder", you may want to rethink maybe just one or two feeders this summer… the bird families sure will thank you!