The Unintentional Bird Bath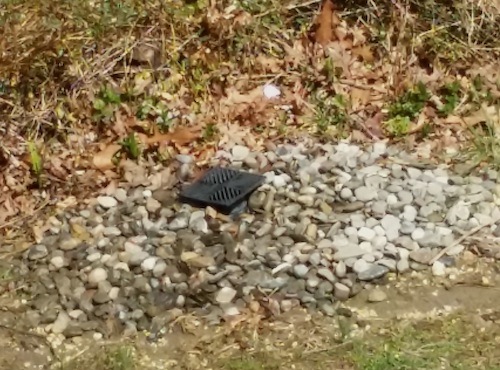 Last winter a water problem was discovered in the crawlspace. Ground water was coming up pretty high and slowly rotting out the support beams. First thought to be a lack of ventilation – but it turns out this had been a longstanding problem.
Over the summer a sump pit was dug, a pump and float switch added, and drain hose was run outside, across the side yard. A simple outlet was created with gravel. It pumped all winter long, even during snowy weather, and is pumping right now. The water pools around the gravel and ultimately sinks into the ground.
Flocks of resident birds gathered there all winter, particularly during really cold weather. While this is near the bird feeders, there were many birds (like robins) who don't typically use them. Every time the pump ran, birds would swoop down and take a dip, or drink, and otherwise frolic in the temporary pond. Leaning towards burying a bird bath or some kind of large shallow form near there for summer so the water will be able to pool longer.
This is clean, filtered ground water, it flows so it doesn't freeze, and will be cooler in summer months. The best thing… it's going to good use for the birds!