Bring a Hanging Bird Bath to Life with Solar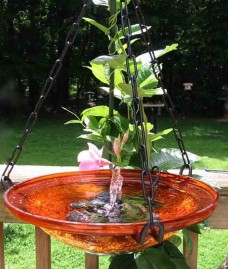 Gift Idea #2: Get it immediately
with a personalized gift certificate!
There's really not much time left to find that perfect gift and get it by Christmas, but offering a shopping spree at a cool store is always fun! Folks do love to browse and shop for themselves… especially when they're not paying!
So many unique, yet bird-friendly items to be had, it might even be a difficult choice! The hanging bird bath shown includes a solar bubbler and decorative river rock. The rock helps to both camouflage the pump and offers birds better footing.
Because fresh water is the best way to entice feathered friends, moving water is even more effective! The pumps (solar and electric) are offered separately so they can be added to an existing birdbath if preferred. Leaf misters, bath drippers and water wigglers are all neat accessories with big impact. Moving water simply attracts more birds!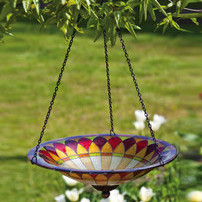 And that immediate, personalized gift certificate? No kidding! Purchase any an e-gift and we'll email you a large, colorful, personalized gift card to print out and give to the recipient. Place it in a box, gift-wrap, and ta-dah… one awesome gift in hand! Tons of fun to choose from including birdhouses, feeders, garden art and more. The list is complete and shopping is done!