Still Time for Stunning Copper Bird Feeder Gifts!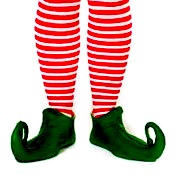 Gift Idea #3 Entice birds with timeless elegance

So many great suggestions… so little time! The elves got caught up with the "holidaze", busy-busy crunching out fantastic gifts birds love! That's basically where our other 22 gift ideas went, it's been all hands on-deck!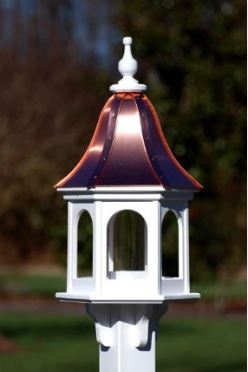 As far as getting it there by Christmas without spending a fortune on expedited shipping? We've got this one figured out!
You can send an awesome copper bird feeder or house (with free shipping-as always). The recipient will receive a special package by the 24th, that's sent Express Mail. It contains a few goodies for the birds, and a hand-written note letting them know something very special is on its way! Since there's some info enclosed about the house or feeder, they pretty much know it's one or the other… but they don't know just how nice it actually is. Definitely a fun gift that piques curiosity!
Aside from the traditional gazebo styles, there's large capacity hoppers for the extreme birder. These newer designs accommodate 10, even 20 lbs. of seed, and offer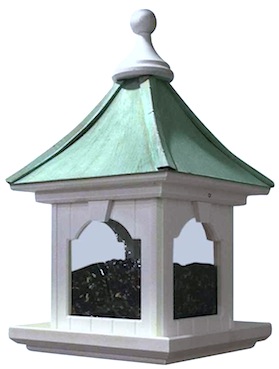 post-mounted and hanging versions as well. Because all of our copper feeders and birdhouses are constructed (in the USA) of durable vinyl/PVC, they last a lifetime, and cleaning is as simple as using the garden hose with a forceful spray.
No flanges or parts required for mounting, installation is simple with the attached mounting collar. It slides right on a standard 4×4 wood post, and the decorative brackets are included too. Both are vinyl to ensure there's no deterioration. Even the finials are composite resin. The coolest thing is that these look like wood- you can't tell the difference, and oh yeah… and birds love them too!
But this pre-gift package must ship by Monday, 12:00 pm, EST. It's really the last call for an on-time Christmas delivery without wasting money on expedited ship services!