Add Moving Water to Your Birdbath and Watch the Show!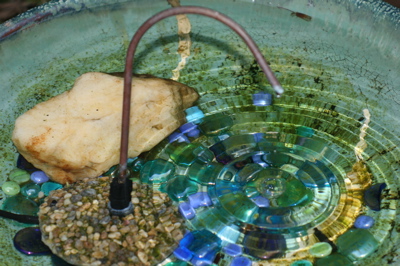 Fresh water in a birdbath is by far one of the best ways to entice song birds to your yard. Even those who may not use birdhouses or feeders will usually stop by for a sip or dip! You can count on this, be it extreme summer heat…or frigid winter months, a birdbath is a necessity if you're trying to attract wild birds to your yard.
Adding accessories like birdbath drippers, water wigglers or misters works like a visual magnet to birds, the difference is amazing. Moving water attracts birds like you wouldn't believe! The added benefits are no stagnant water and the water stays cleaner longer. Also, nasty mosquitoes can not lay eggs in moving water.
In our birdbaths at home, you'll find two water wigglers and two drippers…our birds love them and we'd never go back to standing water.