A Whole New Bevy of Rustic Wood Birdhouses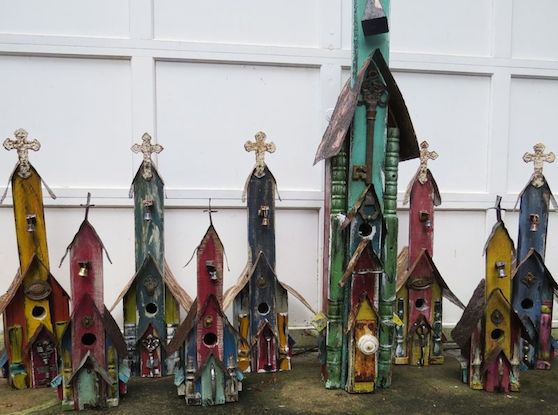 Ready for upload to the site and occupancy by some feathered friends… Charlie's done good with these new (old) rustic wood birdhouses!

You won't find them on store shelves, nor online because they're locally made and signed by the artist (who actually enjoys his own backyard birds too). You may however find them around Atlanta as he's been creating these unusual bird homes for the past 16 years.
No plywood on these church birdhouses, the wood is truly salvage from barns and other structures around GA and NC. Clean-outs are located either on back or with removable floor.
1.5-inch entry makes them ideal for bluebirds, Carolina wrens, chickadees, titmice and possibly a downy… these houses offer ideal digs to raise young. Lots of ventilation and proper drainage keep nests dry & cozy for chicks. Bluebirds may take to a 3rd brood this season in them, and others will find them an awesome roost for cold nights this coming winter.
Ringing bells and re-purposed hardware, along with old world jewel tones make each bird house unique for the collector (and avid backyard birder too). Very bird-friendly, they'll host many successful broods and fledges over the years!
But it's first come-first served as limited quantities exist. Expected for sale later this week, keep an eye out for these very functional, very unique rustic wood birdhouses!