A Very Hip-Hopper Bird Feeder!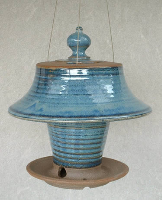 Like feeding wild birds? Like artwork too? There are some fantastic artists out there crafting wild bird feeders in hand thrown pottery. This type of stoneware is virtually weather-proof, and will never fade or discolor. That's more than you can say for a lot of the commercial feeders on the market!
The hopper bird feeder above is a large capacity model, holding approximately 5 gallons of birdseed. The seed stays fresher longer as it's protected from the elements. A generous overhang roof also helps to shelter birds from predators and the elements as well. Two seed ports and a large perching area will accommodate multiple birds at once. This type of bird feeder enhances any environment and creates a wonderful focal point. Wild Birdfeeders also make excellent, and long lasting gifts for any nature lover on your list…a gift to be used again and again, and enjoyed by many!