A New Twist on Squirrel Proof Bird Feeders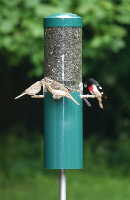 Ever more challenging is the war against squirrels! These furry critters can do some real damage to your wallet as they can eat their weight in bird seed in one week. Now, multiply that by the 8 or 10 squirrels who hang out in your yard and that's a problem!
As more folks get into the great hobby of backyard birding, so do more squirrel resistant feeders become available to us. Squirrel proof bird feeders have come a long way from the plain old caged versions. These still work great too, but other, more attractive options may be what you are seeking.
This sleek, slim-line squirrel proof bird feeder is complete with a built in baffle. It even includes the pole for mounting. With an all-inclusive feeder such as this, you can forget the worries of adding bird accessories to complete the job.
Always remember, squirrels can jump sideways up to eight feet, so when placing your feeder, be sure it is not too close to any type of horizontal launching point for the sneaky acrobats!