A Different Breed of Hopper Bird Feeders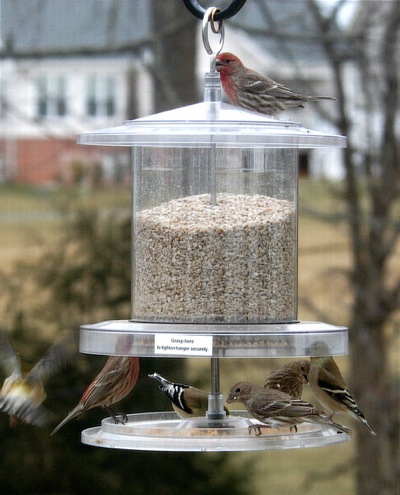 Would you file this one under hopper feeders? Because it's definitely not a tube style, nor a platform (although it does have one). Do you think birds know about  "thinking outside of the box"? They must have some clue, because instead of eating downward in natural fashion, they eat upward with this feeder. Huh? That's what we first thought too… until we saw it in action!
The All-Weather Feeders are truly an innovation in wild bird feeding. These hopper bird feeders absolutely keep seed dry in the most horrid conditions, and only dispense seed that's required at a particular time – for that particular bird. Ten seed ports installed on the underside of the big hopper are totally protected from the elements… even sideways rain! Birds use the tray to land and perch, while feeding from above, allowing you full view of all feeding birds. The tray is also useful for acclimating birds while the feeder is still new to them. Additional treats (like shelled peanuts or suet chunks) may also be used on the tray itself to further entice feathered friends.
Available in four or six-quart capacity, the All-Weather Feeder offers an optional pole mount attachment too. Black oil sunflower or a safflower/sunflower mix tends to work best. The seed ports are too small for striped sunflower seed. Made of sturdy polycarbonate that won't yellow over time, the feeder also comes with a full ten year guarantee against breakage.
No more cleaning out wet seed after rain and snow (when birds depend most on a constant food source). 100% weather-proof feeder keeps seed dry and available at all times, no matter the weather! Truly an innovation in wild bird feeding, it just goes to show that all hopper bird feeders are not created equal!