are unique birdhouses really functional?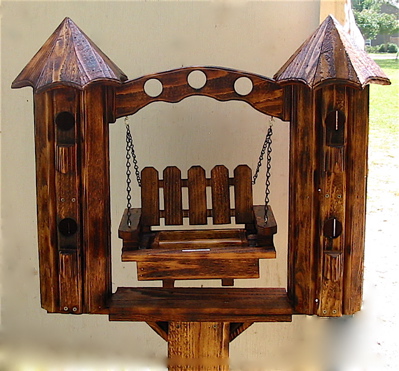 Who doesn't like cool stuff, and why would you be here unless you're into birds? We really love backyard birding, almost fanatical about it! But the cool stuff has to work… for the birds. Be it nesting in spring, roosting at night, trouble-free feeders, misters that don't leak, or solid heaters for baths in winter… it has to work well!
Our website, The Birdhouse Chick, affords us this really neat aspect: to live vicariously through buying and product sourcing. But when combined with a fanatical birding hobby, this can be dangerous! We're sort of known for unique birdhouses, and I promise… the sources are wide and varied! Working with smaller companies and individual artisans, we've met some great folks along the way too.
Some of the prerequisites for new items are; Would we use it, is the quality there, and is it good for the birds? The useability just has to be there, real stuff versus fluff. All bird houses must have clean-outs, drainage, ventilation, proportional entrance and floor space, ample distance fro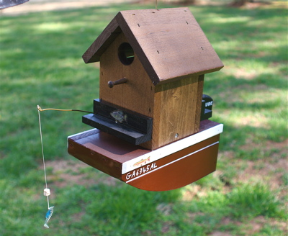 m entrance to floor, and it still has to be cool enough to want one in our own yard! But uniqueness may at times override functionality, and that's not good for birds. Twenty five years of experience certainly helps, but who are we to say? If it's questionable, then it's likely not a good fit for the website.
One local artist crafts some pretty cool houses and feeders. The boathouse shown here has been a staple for the past few years because it's unique and totally functional. While picking up some more the other day, Frank's new creation had been erected in front of his shop (photo above). I liked it immediately, but started thinking about the feeder placement between nest boxes. Hmmmm, how safe is that for nestlings? Might this design attract dreaded starlings or house sparrows? They're a major threat to most songbirds. One could always omit the birdseed, but then what's the point? See what I mean… fanatical!
We were all birding beginners at one time or another, and like all things, learning comes from experience or research. But we also want to entice more people to the exciting hobby of birding, for themselves and the birds. Thus the continuous search for unique birdhouses and feeders that are fun and functional. So the jury's still out on that feeder/house combo, but it sure is cool!