Keep Your Finch Bird Feeder Fresher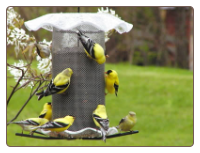 Goldfinches, Indigo Buntings, Purple Finches and others are a welcome addition to any yard or garden — these colorful birds will flock to a finch bird feeder if you are lucky, and chow down on thistle for long periods of time. Pecking one tiny seed at a time makes it easy to observe them.
This food has added benefits; squirrels ignore it, and it is not germinating which means that spilled food won't turn into weeds. But what if you're not lucky enough to have enough finches to eat all of the food on a regular basis? The thistle, or nyjer seed can clump when it gets damp, and the attraction for our feathered friends will quickly fade.
Here's a trick to keep thistle bird feeders fresher longer: Place a few inexpensive ping pong balls inside your feeder. The thistle seed is very fine, so it flows around the ping pong balls and is available to the birds. The balls will take up space in the feeder, reducing the amount of food it holds, while allowing an even distribution for more feeding space. The result: less food in the feeder means less clumping and fresher food. You can add or remove balls until you get the right balance of food and space for your feeder and your habitat.