Hold your nuts in all kinds of peanut bird feeders!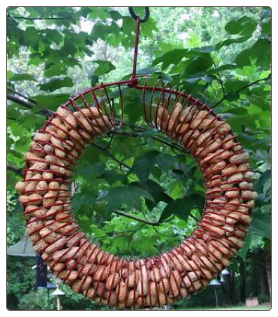 Attract many kinds of birds… and squirrels too if you don't add a baffle to peanut bird feeders! Wood Peckers, Nuthatches and Blue Jays especially love whole peanuts in the shell, and there are so many cool ways to offer up this wild bird delicacy. There are lots of peanut bird feeders available for shelled peanuts too if you'd rather not contend with the ground waste, and birds like them equally as well. The wreath feeder shown here makes a fun peanut feeder, fruit feeder, or even a  nesting material container in spring.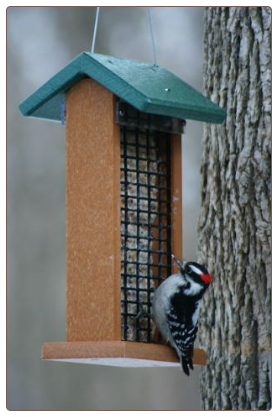 A plain old suet cage or basket is a great way to offer peanuts. These cages, whether double, single, inexpensive, or quality recycled plastic make perfect peanut bird feeders. They're terrific for offering nesting materials in spring, and work wonderfully for serving fruit in summer to attract migratory birds. Now that's versatility! Even if you don't feed suet to your birds, the cage-like design makes them perfect for year round use. In fact, this recycled plastic double suet feeder is actually deemed a three-in-one feeder-for suet, peanuts, or fruit.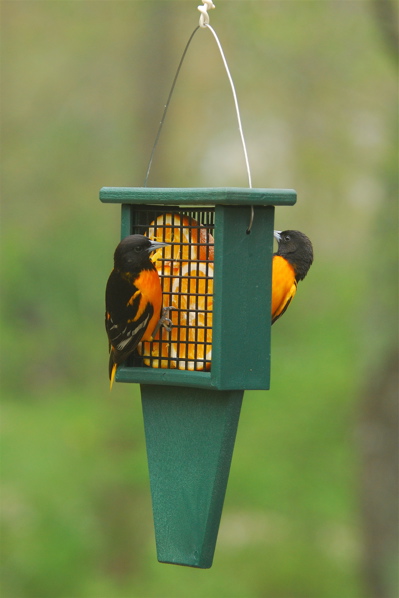 This suet feeder has Orioles chowing down on oranges in summer, but you can attract a wide variety of feathered friends year round with suet feeders used for peanuts, nesting material, and oh yeah… suet too!