Bird Baths Handcrafted the Old Fashioned Way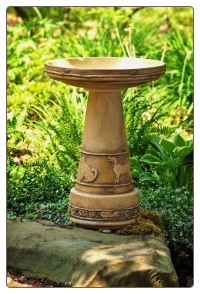 Want to entice more feathered friends? Better than any birdhouse or bird feeder, bird baths really do the trick. Fresh water is very appealing to many species, even those who may never visit a feeder or use a birdhouse.The water element is in fact the most crucial one when creating a wildlife habitat.
If you fancy the nicer things in your garden, there are pedestal type bird baths that are still crafted the old fashioned way by talented artisans. Fine clays are used to create elegant designs, many are even hand painted. The Best Friends Bird Bath shown at left features an intricate relief of cats and dogs. The character is charming, and you can be sure birds will love it too! With a patented locking lid system for added stability, this bath will last for many seasons of use.
Although the production methods differ significantly they share certain features – an emphasis on quality, craftsmanship, and attention to detail, offering beautiful, American-made bird baths and garden decor.