ok, is it the bird feeder pole or the ground?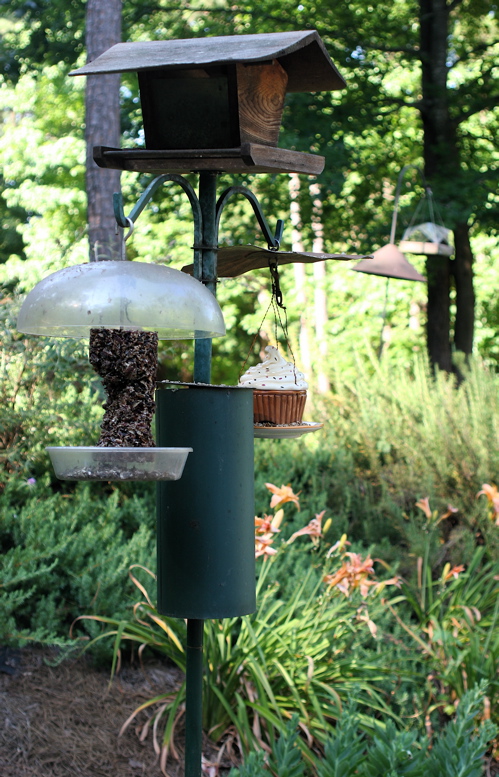 It doesn't look so bad here, maybe the rivets on the baffle are starting to give, and the nice green luster is gone, but this bird feeder pole serves the purpose quite well. Holding a good-size hopper on top, and two hanging feeders, with enough room for weather guards too. It's really a nice set up. The bottom of the pole even sits in an auger, that screws down into the ground about eight to ten inches. So what's the problem?
If you could see this bird feeder pole now, you'd laugh, or maybe think "what the heck?". It now sports a heavy rope which is braced against three ground stakes… professionally tied and knotted by a former sailor! Now I was very excited to purchase a brand new shiny bird feeder pole, which I plan to install as soon as the weather warms up (along with thorough cleanings of all the feeders). I can only hope the triple-braced contraption holds up until then. Today I tightened the rope, and added a small bungee to keep it from slipping further down the pole.
The ground is just overly saturated with water right now  🙁
Besides all the Georgia rain, and snow we've had this winter, our leaf misters ran all summer at the top of the small bank. The ground was already wet before winter's mess. So I'm thinking why did I buy the new pole? Maybe some cement would have been a wiser option.