window bird feeders great for small spaces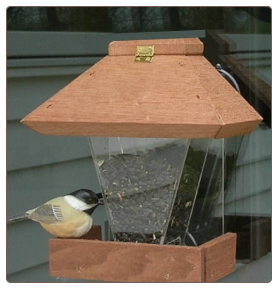 Looking to attract feathered friends but don't have much yard space? There are several proven options that will draw wild birds to the smallest of spaces.
Water is an optimal choice, the smallest of birdbaths will entice birds…they love a consistent fresh water source. The bath need not be large or fancy either. Something as simple as a plant saucer on an upturned pot works quite well. Just keep the bath clean and the water fresh.
Another great option is window bird feeders. Plenty of styles are available, from trays or platforms, tube styles and hoppers, like the one shown here. The Canopy Window Bird Feeder adds a bit of charm with its cedar roof and tray. The overhang helps keep seed fresh, while the tray provides perching space for birds. It will accommodate most seed mixes, attracting a wide variety of birds.
Even in apartments, if you have a balcony, you can entice wild birds and bring yourself a bit close to nature!