Whole or Shelled Nuts for Peanut Bird Feeders?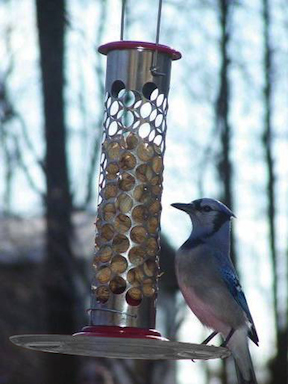 Depends on who you're looking to attract? Most clinging birds covet shelled peanuts, in fact almost all birds will go for them. But not all birds are clingers, classified by their ability to grasp a small surface (and their strong feet). Chickadees, nuthatches, woodpeckers and titmice for the most part are considered clingers. The term not to be confused with clingons from Star-Trek 🙂
Adding a tray to peanut bird feeders allows other birds to easily get the goods. Jays adore peanuts, warblers go for them in winter, as will most backyard birds during frigid weather. The tray is inviting, making landing and eating easier.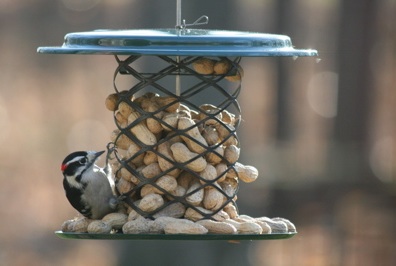 Larger trays even catch waste from whole peanuts, which folks who could do without the waste might find more appealing. Although when feeding shelled peanuts… there's really not much waste all. So that alone may influence what's best to offer at your place! Many  shelled peanut feeders offer tray options-but should they not- a universal seed catcher is available to accommodate them.
If the waste from feeding birds is a big drawback, large adjustable seed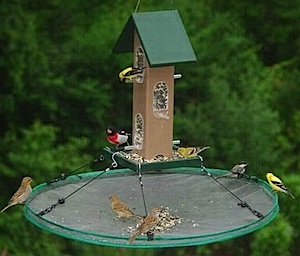 trays could be the answer. Attaching to almost any type of feeder, the large 16- or 30-inch diameter promises to catch anything that falls from the feeder. These also create a new feeding space with their large platform area. Peanuts pack a real punch in terms of nutritional value, especially in cold weather. They're economical if purchased in bulk too. So don't give up the ship due to the mess some peanut bird feeders may leave behind!