When Choosing Bird Gifts- Think Thistle Feeders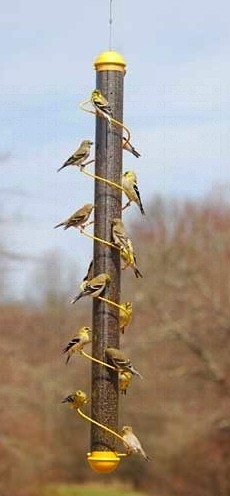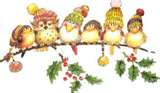 Get a jump & don't be stumped for gift ideas on the looming list!
It was easier and more fun when you could just write a letter to Santa, he rarely made mistakes. Well, except maybe for that time he arrived with a talking calendar… not so sure what happened that year 🙁
Consider nature! A fab offering that shortens the distance between feathered friends and humans can be one that's used everyday and for many seasons to come! A tube feeder filled with sunflower chips attracts chickadees, titmice and finches. A platform feeder covered with mixed seed like peanuts, black oil sunflower and millet entices cardinals, jays and sparrows, while thistle feeders keep American goldfinches fat and happy. Finches happen to be resident birds in most parts of the country, unlike migratory birds who, well- migrate south for the winter.
If you offer thistle (also known as nyjer seed) year-round, goldfinches' vibrant yellow color will grace the yard in spring and summer. Duller, drab feathers in fall won't deter them from feeders… it's just the opposite! Thistle doesn't germinate either, so no worries of weeds popping up below the feeder. The tiny black hulls can still pile up, but easy enough to scoop up every few weeks.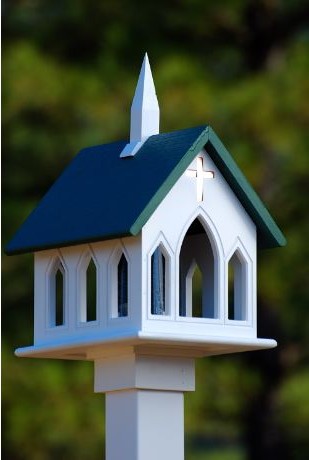 There's some great feeders out there and a lot of bad ones too. It's easy to be drawn to the artsy fartsey ones. You may think a good rule of thumb is the uglier the better… not so! One shaped like a church or big porch swing is all about lasting for years, and our own experience is that the best feeders are made right here in the USA. No problem with imported products, but unlike gadgets and electronics, the best bird feeders are still made here.
They should be easy to fill, but it's more important that it be easy to clean. A good feeder is made to come apart so you can remove old or moldy food. Many folks buy large capacity feeders so they don't have to fill them as often. That can be a mistake sometimes as rainy weather spoils seed before consumption. Several small feeders may be a better choice than one that is extra-large, unless of course you're talking about The All-Weather Feeder, it laughs at driving rain and snow!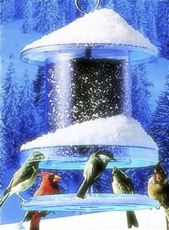 Wood bird feeders appeal to many people, and if cared for properly they will last. However, wooden feeders often fall prey to squirrels and get chewed up good! If you do happen to purchase any type of wood feeder, best to protect it… with sealant first and a squirrel baffle second.
If you're thinking about giving anyone on your Christmas list only one feeder, a thistle feeder is tops, or you could always opt for the talking calendar!