What's Really in Your Window Hummingbird Feeder?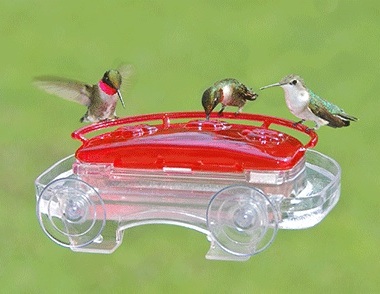 Got a new window hummingbird feeder? Please fill it with the good stuff… read on:
One of the biggest myths about feeding hummingbirds is their food needs to be red. That one, along with leaving feeders up in fall will deter the birds from migrating. Neither are true, and the former may actually be hazardous to the tiny sprite's health. Although no formal studies have been done to prove red dye #40 is not safe for hummingbirds… none have been conducted to say that it's safe either!
Confirmed in Julie's Zick's recent blog post (yeah… she's an expert) she's got an interesting view on the subject: http://juliezickefoose.blogspot.com/2015/04/red-alert-for-hummingbirds.html
We've been encouraging folks to make their own nectar for years. Not only extremely economical, we believe hummingbirds prefer the home made solution over commercial mixes. 1 cup of sugar to 4 cups of water… it couldn't be simpler!
Should you have any doubts or fears upon taking this leap from store-bought to home made, check out the new Nectar Aid. It's the absolute easiest (and foolproof) way to make your own hummingbird or oriole nectar. Measure, mix and store it using one container, even the stirrer's included!
Check out the demo video below, then watch some tiny sprites in action at this fun window hummingbird feeder!