Vinyl Hopper Bird Feeders with Extra Large Capacity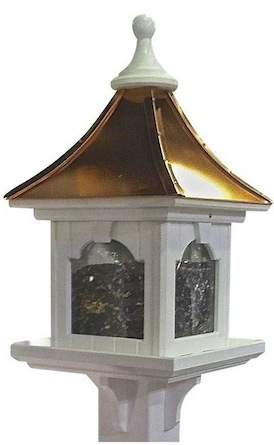 Tired of filling puny feeders every other day? With migrations under way bird feeders are likely to be seeing increased activity over the next few weeks. Food and fresh water greatly help migratory birds on their way south.
These stunners pass for wood, in fact you'd swear they were wood… but they're vinyl. The kind that's used in housing construction, so you can bet it's durable and everlasting! As is the copper roof, whether bright and shiny or aged patina, the 16-gauge copper (with brass rivets) also lasts a lifetime. These feeders will never warp, crack, mildew or split to boot.
Now for the best part… (drum roll please) the hoppers are definitely whoppers! In two sizes that are both fairly large, these hopper bird feeders hold 10 and 20 lbs. of seed. The traditional post mounted feeder is complete with decorative brackets (also vinyl) and a newer hanging style offers more flexibility for placement in the landscape.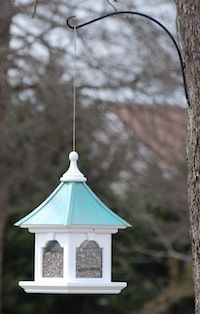 Even the finials are a composite resin to ensure there's no deterioration whatsoever.
There are houses to match, and lots of folks purchase them for the aesthetic flavor, a timeless elegance in the garden. But it's the folks who purchase feeders who actually feed the birds! So if you're looking for a really large capacity feeder… look no further! Probably a little more than the planned spend, we can guarantee these feeders will never require maintenance and will certainly never need to be replaced.
For a thorough cleaning, simply take the garden hose to it with cloth in hand. For any build-up of environmental grime, a little soapy water is all it takes to revive the crisp white color. If there were ever a product we couldn't be more proud to offer… it's our time tested and bird-approved hopper feeders!