Time to Dig Out that Window Hummingbird Feeder
It was actually snowing today, after 3 days of spring-like 70 degree temperatures, on March 25 there were flurries in Atlanta! Will winter ever end? Migratory birds are already arriving, making their way northward from the gulf. It's got to be a trying journey as the landscape lacks their usual finds. They're already hungry, tired and now… there's no food!
Feeders help them on their way; seed feeders, suet feeders, fruit feeders, even your window hummingbird feeder. The same tiny sprites are likely to return to your yard if it offered good digs last season. It's called site fidelity and hummingbirds practice this ritual.
The map over at hummingbirds.net  shows daily sightings and locations for Ruby-Throated Hummingbirds. They're penetrating the southeast and moving into Kentucky now. Just because it's still cold outside it doesn't prevent Mother Nature's instincts from kicking into full swing! Longer daylight hours are pushing birds north to spring breeding grounds.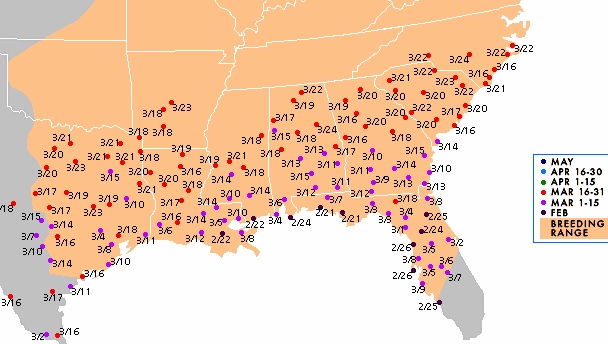 .. despite cold weather.
Although it may not seem like hummingbird season is here – it is! Definitely time to dig out those feeders for a good cleaning and get them filled.  Nectar can even be mixed a bit stronger than usual during migrations.
Your hummingbird feeder will prove to be a most welcome sight for the hungry and tired little birds. And hey, if you're lucky enough they may even just stick around your place for the breeding season!