Thistle Feeders are in High Gear Once Again!

It may be officially summer, but the tail end of spring nesting season is still going strong. Goldfinches are just starting to nest now, which means you'll be seeing a whole lot of yellow at thistle feeders in the next 2-3 months.
If you're not offering thistle yet, you may be missing out! The American Goldfinch is a favored backyard songbird as their summer plumage, friendly disposition and sweet song are simply a pleasure to have around the garden. And unlike other birdseed, thistle seed won't germinate… which is also a pleasure in the garden 🙂
Goldfinches don't use birdhouses, so there's no luring them in with that. They'll raise their broods in mature hedges or trees, constructing nests of woven plant fibers and down. You can encourage them with some nesting materials placed in the vicinity of thistle feeders. They're partial to Hummer Helper, the hummingbird nesting material, feathers and other fibrous nest offerings.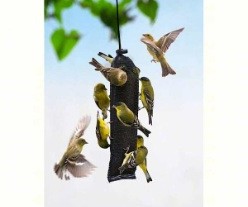 Unlike some more aggressive birds, goldfinches are quite demure, they'd rather fly off than fight for a spot at the feeder. This where lots of perches, or an all-over feeding space to accommodate them are ideal. Thistle socks are another great choice for goldfinches' busy time of year. You can easily offer several different feeding spots, without spending a whole lot! Parents will feed babies thistle seed almost exclusively at first, sometimes mixed with finely chopped sunflower bits, you'll see finches consuming this seed mix too.
As always, fresh water is critical to any bird's environment. Keeping your bird bath clean is important stuff, for them and for your yard – especially in warm summer weather. Keep water shallow (no more than two inches) and keep it fresh… and they will come!
Oh wait, once goldfinches molt again in September they'll turn an olive-drab color… but don't quit feeding them. If you offer thistle year-round, their electric yellow plumage will grace your yard every summer!