They're Our Biggest & Best Hopper Bird Feeders Ever!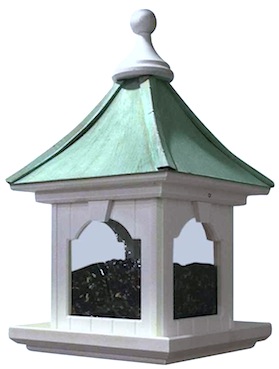 The bigger the hopper the more it will hold but don't it believe because you are told they'll never wear or start to look old a true statement of confidence-maybe a bit bold! New for 2104, large and extra huge capacity hopper bird feeders that will have you doing way less filling and more time relaxing & enjoying backyard birds. Not any old hopper mind you, our best selling feeders for six years straight just got even better! So what's fuss? Although these may look like wood, they're done in vinyl, which means they will not deteriorate. No warping, mildew, rotting, peeling, cracking or splitting… it's guaranteed! It took a long time asking and begging to create something besides our original gazebo feeders. They're quite stunning, but a tube only holds so much seed. If you're serious into birds like us… you know what we mean. Even the smaller size hopper accommodates ten pounds of your favorite seed mix, and we're talking the chunky nut mixes that birds love so much.
With a majestic copper roof, these large capacity hopper feeders come in hanging and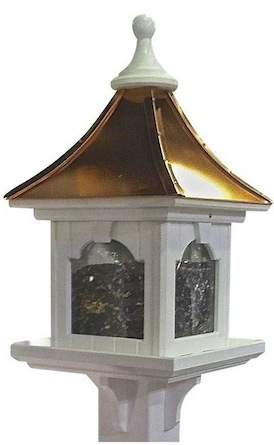 post-mount styles, and the copper is always available in traditional or patina on each model. Post mounted feeders come with a vinyl mounting collar and decorative brackets as shown – at no additional cost. The best part is that it slides right on your standard 4×4 post. Large seed tray invites lots of feathered friends to feed at once, and offers ample drainage to keep seed dry.
Custom made to your liking, our new vinyl hoppers are by far the largest capacity feeders out there. And ready for this? The larger size is a monster – holding 20 lbs. of bird seed! Now that doesn't mean one has to fill them all the way, the square design itself is new, and a nice option with its clean lines and an architectural appeal.
Still in the making below, we especially love the generous seed ports. Look closely at the material, a few customers have called over the years insisting these were wood. No shiny plastic-looking stuff here… first class all the way, beautiful in the landscape and made to last!