The dish style mealworm feeder offers various feed options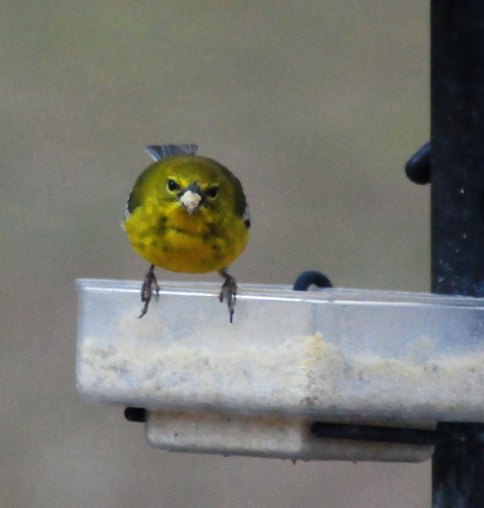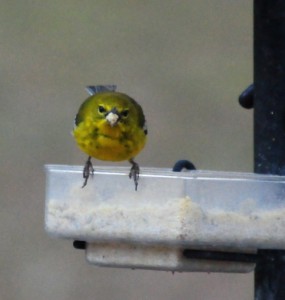 Hey lady!  What's up with the Mealworm Feeder?
This little plexiglass dish get big traffic in our yard! When live mealworms are placed in it (most times twice a day) all bets are off. The bird traffic is fast and furious, first come, first served!
Originally meant for our Bluebirds – the Chickadees and Titmice quickly learned of the treasure. So, the Bluebirds soon received their own enclosed mealworm feeder, although Carolina Wrens  have since figured that out as well!
Feeding live worms can get expensive when everybody's in on the coveted treat, and I mean everybody! Even the Robins get a few worms in a glass dish that's left on the ground. And I can't stand when the crows get to them first!
Unless you have the time and patience to cultivate your own worms, ordering in bulk quantities is easier on the wallet. The worms really aren't that expensive… it's the shipping that gets ya! Since they're live, overnight delivery is required for warmer temperatures. For a few months out of the year (depending on your location) a second-day delivery works fine.
Gradually decreasing the amount of worms, and adding a home-made suet mixture in this meal worm feeder landed a "so-so" reaction from most of our beaked buddies. This Pine Warbler has a mouthful of the stuff, (which is why his beak looks fat & white) but just look at that expression! It's like "excuse me, where are my worms?"

This mealworm dish actually has drainage, but many similar styles do not, making them perfect for offering water too. In summer, fresh fruit is a great choice for migratory birds, while suet mixtures & crumbles, and shelled peanuts are good options for cold weather feeding.
Offering live worms has created a whole new dimension to our backyard birding experiences. Definitely worth giving it a try if you've never fed them before, especially if bluebirds are in the area. And Robins adore them too! But if you don't want the birds eating you out of house and home… a more traditional, or enclosed mealworm feeder may be your better choice.