the all-important squirrel baffle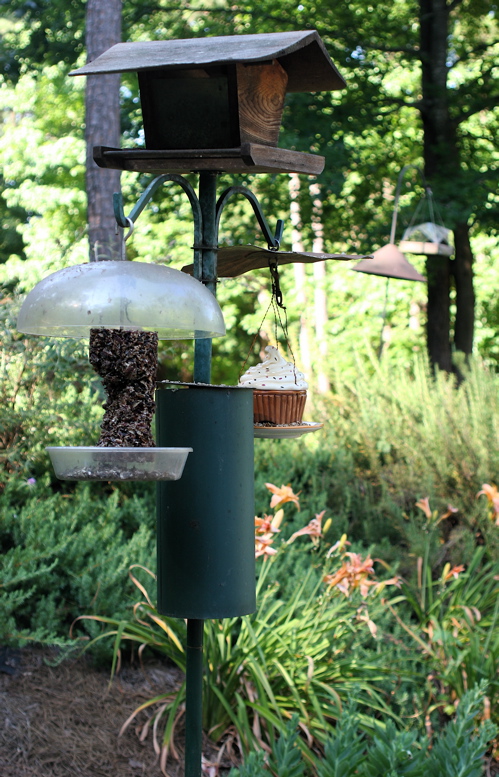 Every single bird feeder (and even some birdhouses) at our place sits with a squirrel baffle attached to it. Don't get me wrong, I like squirrels and feed them pretty darn good, but it's just never enough. Squirrels are fine in the yard~just not in the bird feeders! Many folks would agree with this too.
One 3-arm feeder pole that's next to the driveway has been the new target of our crafty critters lately, as they've learned to jump from the side view mirror of the car when parked near the feeder. This has caused a new plan in parking management, as the second car in is NOT allowed to pull up to the end of the drive. It's an inconvenience, but saves a lot of birdseed!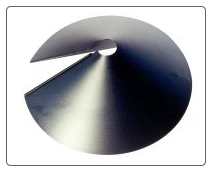 Both hanging and pole mount squirrel baffles are essential to backyard bird feeding if squirrels happen to be present. It's the only thing that really works. If you have a fancy shepherd's hook with no straight end to slide the baffle over, these cone shaped ones work like a dream on any size feeder pole. A simple clamp and innovative design will make your feeders squirrel-proof in no time flat!
A customer recently told me she purchased those "hot meats" to deter squirrels. From experience I know these will work effectively… for a little while anyway. Pounds of Cayenne pepper has been added to our seed stash-but to no avail because the crafty critters get used to it. The easiest solution to squirrels is hands-down – squirrel baffles!