Offer Nesting Materials Many Ways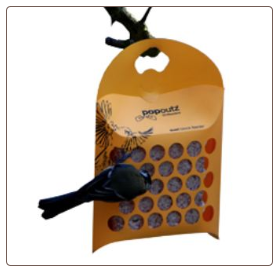 For most of April and May, we've been giving away free nesting materials with all orders. Throughout most of the spring season, you can encourage birds to take up residence at your place with nesting materials. Different species build their nests accordingly, so we've used varied materials to make up the packages.
Shown here is a Pop-Outz suet feeder, and we've been giving them away too! The recycled plastic makes a perfect container for offering the nesting materials. Suet is always a welcomed treat for both resident and migratory birds and the Pop-Outz is a super fun way to serve it. No-melt suet or doughs are made specifically for warm weather feeding and the energy boost really helps out migratory birds after a long journey.
But back to the nesting materials, ours were comprised of horse hair (from mane, tail and body), decorative mosses, like Spanish, sphagnum, and the yellow straw-like stuff, feathers and strips of aspen wood. Aspen fiber happens to be another favorite among North American birds, and is found in many of the commercial nesting material kits.
A mesh produce ba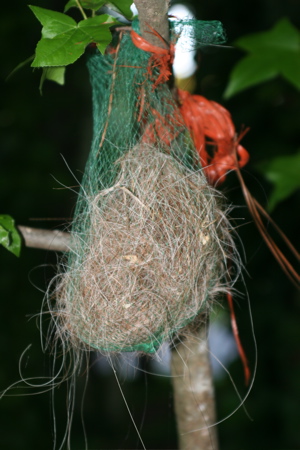 g from the grocery store (like the kind apples come in) also works great for offering nesting materials, and we use them around our yard. Things like the Birdie Bell are also wonderful for nest materials, plus year-round feeding too.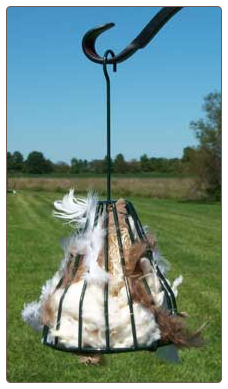 Entice birds to take up residence at your place by creating a suitable and friendly environment. Food, water and shelter are the basics, be it natural or man-made… the birds will thrive and flourish!