super squirrel proof bird feeders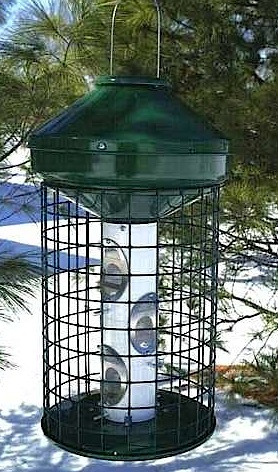 If you're a little bird-crazy like us, keeping feeders filled is a priority that takes time – in fact it's a daily chore lately due to some bully birds hanging around the yard. Only filling feeders about one quarter of capacity, because no matter what's offered… it's gone in a few hours! And we're not even talking squirrels here… grackles, starlings and doves are the culprits. Isn't it time for them to move on yet?
Because squirrels are enough menace in their own right, every single bird feeder has a baffle on it, even bluebird houses have baffles to protect nests from curious paws. But outwitting the critters really isn't as difficult as some may think. Squirrel Proof Bird Feeders with cages like this are very effective against both squirrels and larger, less desirable birds. Some of the caged feeders are let's say, kind of cheesy, but this large capacity model is super quality and made in the USA. With a big three gallon capacity, and built in seed tray to catch waste, this super squirrel-resistant feeder even has an innovative design that makes it simple to fill and clean. The PVC feeder tube will never yellow like some of the acrylic tubes, and stainless steel feeder ports retain their shiny new look.
Don't get us wrong… we feed the squirrels too, but somehow that's never enough either. May be time to look into one of these for our own yard? And although a bit overboard with our wildlife habitat, that's not really us feeding this furry friend – although it is kinda cute!