Say What? This Tube Feeder is Bear Proof?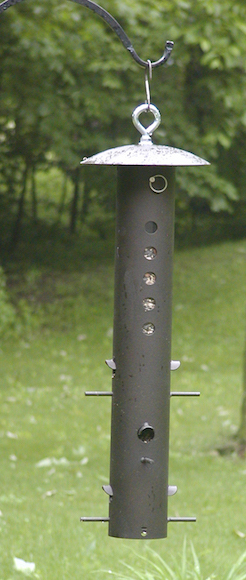 Could it actually be… a bear-proof bird feeder?
It's not here yet, but due in December is a steel tube bird feeder by Birds Choice with claims to be bear resistant.
Although we've not seen them in our own GA backyard, many folks (both on the outskirts and in residential neighborhoods) have posted videos and pics of bears destroying their bird feeders… big time too! Whole feeding stations are decimated, and it's highly unlikely you'll command said bear to cease and desist either. Worse part is that it becomes habitual for them.
They're extremely smart and considered problem solvers. Once a food source is discovered, you can bet they'll return. They like the same foods as birds; seed mixes with black oil sunflower, peanuts, suet and sweet nectar too. That's why Yogi and Boo-boo hung out at the park… for pic-i-nic baskets 🙂
We've seen large raccoons grabbing hold of hummingbird feeders with both hands and guzzle like it was beer, but it doesn't really compare to a bear in your yard.
Wait… quite possibly we're in their yards, thus the troubling and increasing episodes with the new urban bear and human contact. Through no fault of its own the bear usually loses, and we hear it on the news all too frequently 🙁
While this video is pretty fascinating to watch… it's just not a good scenario in the bigger picture.
So back to the steel tube feeder: It features 5 small windows on each side to monitor seed levels and 6 perches that look large enough for cardinals' comfort. Powder-coated steel tube holds 3.5 quarts, top removes for filling with removable bottom for clean-out. Overall measurements are 25.5″ tall x 8″ diameter, with a hefty weight of 9 lbs.
After viewing some of these bear vs. bird feeder videos, you might need to hang this one high, or secure it (really well) to something so the bear doesn't walk off with it!