Post-Mount Hopper Bird Feeder Offers Major Curb Appeal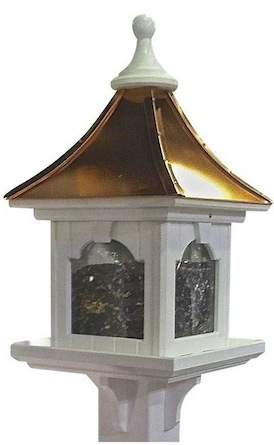 Larger seed feeders seem to be banished to the backyard, likely for the best viewing options. Sometimes on the side of a home, but you do occasionally see them in the front. Some folks may place a beautiful birdhouse in the landscape… simply for the aesthetic. But those who actually feed the birds are serious!
Gazebo style feeders offer a traditional architectural accent, some with Victorian flair, others even more creative. But the tube, the tube's the problem for the serious backyard birder. They're relatively small, holding maybe one or two pounds of seed. With winter still hanging on and natural food sources depleted, birds have been ravenous around feeders. And with spring bulbs already forcing through the ground, migratory friends will soon arrive (whether the weather cooperates or not!)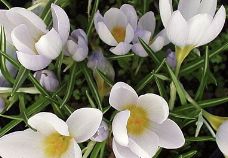 Enter the post-mount hopper bird feeder with ten-pound capacity and majestic appearance. A distinctive accent for the landscape, it's definitely worthy of the front lawn. Because the roof is copper, and that's actually vinyl/PVC (not wood) its appearance remains new. In fact it's guaranteed against rotting, cracking or warping. Vinyl will not mildew, making it a healthier feeding surface for birds. Bacteria and mold have nowhere to settle, no deep, dark cracks or crevices in which to grow.
Hopper style feeders like these are one-time investments in the landscape with ideal functionality to entice feathered friends. They're simple to fill, clean and are virtually maintenance-free. An aged patina finish is offered, as well as a hanging model. Lots of options with easy installation too – slides right on a standard 4×4 post, brackets included as shown.
Save 10% through 3/15. Use code MC10 and feed the birds in high style… now come on spring!