Offer nesting materials early to further entice birds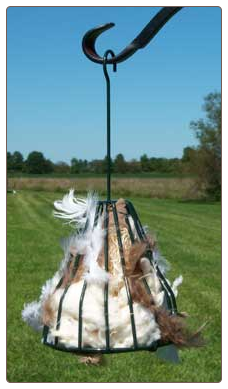 Encourage birds to nest in your yard by offering them a good variety of nesting materials. Simple things you may likely already have around your home are fantastic, items which birds will use for nest building.
Got a pet? Cat and dog hair are some favorites, as are feathers, and decorative mosses. Spanish moss, sphagnum moss, raffia and aspen fiber are perfect nesting materials birds will go for! Brightly colored cotton yarns add to the mixture also helps grab their attention. One of the tricks is to have your nesting materials out before the nesting season begins, and in plain view where birds will easily see them.
Lots of kits and fun holders are available for wild bird nesting materials.  The Birdie Bell shown here actually does triple duty. It will hold fruit in summer for the more exotic, migratory birds, and seed bells or suet in winter to help sustain your regular crew. Come spring, simply fill the bell with nesting material. An item like this with year round usage is a good value. But truth be told… you can use a simple suet cage to offer nesting materials as well. Even the mesh produce bags from the grocery store (like the kind apples come in) will effectively hold nesting materials that birds can access.
So aside from the birdhouses and feeders, be sure there is a fresh water source too. Be it a creek or bird bath, all species of wild birds are drawn to water. And don't forget: start gathering materials now that will entice feathered friends to take up residence!  Happy Birding!