October is National Adopt a Shelter Dog Month!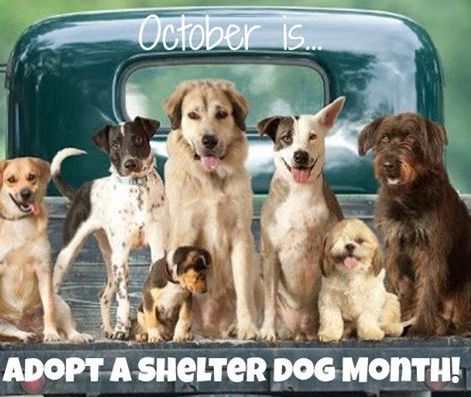 And what would this have to do with wild birds? Absolutely nothing, but our own dogs and cats have always been – and will always be rescues… because they make for the best pets ever! And yes, there are purebreds of every kind waiting and hoping for their own family.
It's an alarming statistic: over 7.6 million animals enter animal shelters every year, yet only 29% of cats and dogs are adopted nationwide.
In honor of October's National Adopt a Shelter Dog Month, those considering adoption can look to rescues for their new family member. Most shelters house a wide array of animals, including purebreds, and will work with you to find the best pet for your family.
Adoption can be seen as a two-way street, as a rescue can benefit not only the animal they are taking in, but also the new owners as well. Heidi Ganahl, CEO of Camp Bow Wow, North America's largest and fastest growing pet care franchise has offered her insight regarding the benefits of pet adoption and important factors to consider.
Benefits of Pet Adoption and Factors to Consider:
General Benefits – There's a reason that they say dog is man's best friend. Having a pet, not limited to dogs, is something that everyone should experience at some point in their life. Pets can be calming, mood lifting, empathetic, and so much more. They teach you how to be selfless and responsible as you are caring over another life (for those of you without children).  Generally speaking, they make you happy.
Save the Life of a Shelter Pet – Only 29% of cats and dogs are adopted from shelters; the rest are left to live in the rescue centers or, worse – euthanized. Bottom line: Adopting a pet saves their life. Give a dog or cat a home they wouldn't have otherwise.
Stress Reduction – Some studies show that people begin to feel less anxious after spending less than an hour with an animal. There are endless benefits from lowering your stress level and while the things that we find stressful in our lives are often hard to cut out, including an animal in your life can help.
Helps with Depression – In some cases, therapists suggest to patients suffering from depression that they adopt a pet. An animal will love you unconditionally and also be a great friend and listener. People with depression often benefit from having a pet, as the animal can help them get out of the house and out of their own head.
Engaged Mind – A key to a healthy mind, especially for those who are elderly, is staying engaged with others. A pet is often a conversation starter and being out with a pet often warrants questions or comments from passersby. Bringing your dog to a dog park is a great way to meet other people with similar interests.

Factors to Consider:

What breed are you looking to adopt? Different breeds have different characteristics and you will want to understand the types of behaviors that may be displayed by your new family member. You need to understand the energy of your household, the size of dog that you can handle, how much exercise you are able to provide and more. If your family tends to be very low key, you do not want to choose a high energy dog that needs tons of energy. If you live in a small space, a very large dog may not be the best for your family. Think about all of these variables before choosing your new pup.
Who will care for the new pet? Be sure your new pet correlates with the ages of those in the household. A good rule of thumb: the new pet should fit the current physical capabilities of the caretakers with a perspective for what the next 10-15 years will bring.
If you have children in your household, enrolling your new pup and family members into an obedience class should be high on your priority list. Children need to learn how to safely interact with the dogs so that accidents don't happen. An experienced trainer will help the whole family understand how to safely interact with your new family member.
If there are elderly members in a household, a strong vigorous adolescent pet is not advised. Large breeds also demand more physical upkeep, something that an older person may have trouble performing.
Does your family have an opinion on their newest member of the family? Although it is exciting to surprise the family with a new pet, do some research and poll each family member to find out what they are looking for in a new pet so that the pet you choose aligns with the household. Once your family has chosen a breed that suits the family's requirements, the best approach is to bring the whole family to meet the potential new family member and gauge how they all interact.
Are you financially ready for this responsibility? A new pet can go for "free-to-a-good-home" to several thousand dollars. A budget must be set not only for the upfront cost of taking the pet home, but also for immediate follow-up costs like veterinary check-ups, a training crate and pet obedience classes. Also keep in mind that your pet will need to be fed and groomed and will also need chew toys and additional supplies like food bowls, a dog bed, brushes, leashes, etc.  Also keep in mind the necessary chunk of money needed for veterinary emergencies. You might also think about getting pet insurance for your new family member to help keep the cost of veterinary bills more affordable.