Friend and Foe Use Bluebird Houses Through Winter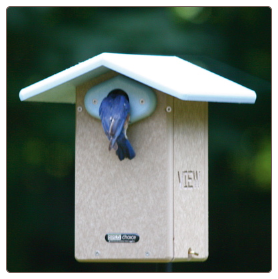 Fairly late and third nesting reports for Eastern bluebirds were common this year, possibly due in part to the previously treacherous winter and their delayed instincts for claiming territories and nest boxes (nest starts).
Now's a great time to check bluebird houses for repairs and remove nesting materials from the busy spring season. Although bluebirds don't usually roost in houses… others will!  Offering shelter through tough winter months for resident birds is simple if you have a house or two up already. Just clean them out and check for repairs. And a good cleaning is optimal if you have the time, a diluted bleach solution works great. Use a 1:10 ratio of bleach to water and a good scrub brush. Rinse well, let air dry and replace.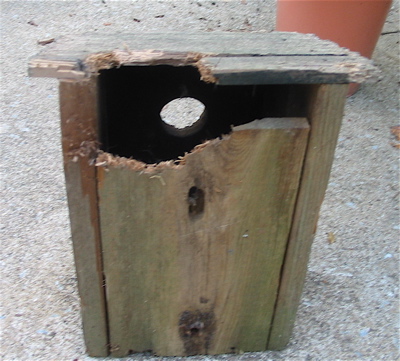 Squirrels can do a number on wood birdhouses, especially enlarging the entries to gain access. If the damage isn't too bad yet, it's an easy fix by adding a metal or brass portal over the entrance. It's a good way to save your birdhouses for the birds and deter squirrels through winter. Well… some squirrels anyway!
For the past few years we've had a downy woodpecker who claims a bluebird house for nightly roosting, it's actually pretty cool! House sparrows on the other hand, should be discouraged from roosting in any houses… they're a major foe of the bluebird and most native cavity nesting birds.
If and when you do go to clean out houses, you may see droppings which will give you a clue as to who's roosting in there. If they're white, you can bet house sparrows are in the area. Black droppings with seeds indicates bluebirds. Let's hope for the latter 🙂