Not Crazy for Butterfly Feeders – but these…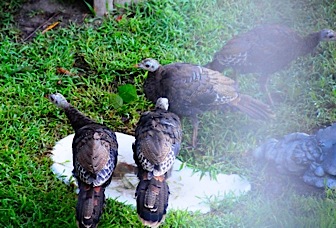 Puddlers! Everyone seems to adore them, everyone as in wildlife that is. The severe drought in the south has taken its toll not only on the land, but wildlife as well. In Arizona and Texas, many mammals are abandoning their young in search of food and water. This summer has been a sad state of affairs as far as miserable weather.
Butterfly Feeders will only go so far in attracting the winged jewels, because habitat is really the key. Leaf misters and bird baths around our Georgia yard have been brimming with constant activity for the past two months. Precious water, inexpensive but life-saving for so many creatures, it's been the number one attraction this season!
Below one of our two leaf misters is a butterfly puddler. It's been frequented by many other critters besides butterflies though! These wild turkeys hung around for close to an hour on this particular visit. Even Mr. Turtle visited the puddler one day and decided to take a swim!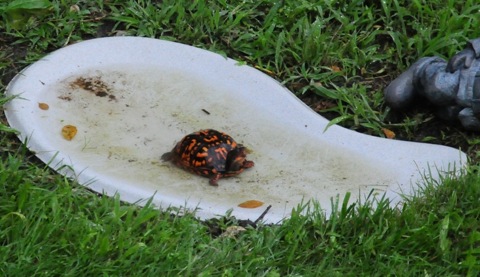 With the Fall Migration gearing up, you can greatly increase the odds of a successful journey for many birds by offering fresh water. Keep hummingbird and butterfly feeders filled with fresh nectar. Hurricanes and storms in the north have ravaged much of the landscape. Many of the plants and nectar-producing flowers have been damaged and ravaged by the rains and floods. Hummingbirds and butterflies depend heavily on these natural sources for food. So please remember to help out local wildlife by keeping nectar feeders fresh and full and always offer some kind fresh water source.