New project marries art and social responsibility.
Working Proof Each week a new print is paired with a charity of the artist's choice, to which The Working Proof donates 15% of the sale of each print, creating a product with not just aesthetic, but social value.
This week the Charity of choice is Show Hope. The interest of The Working Proof is to promote a variety of charities and expose them to new supporters through the appreciation of art and creativity. Each week a new print is released once a week on Tuesday's at 1:30 pm. EST.
October 26, 2010 print release:
Autumn Poppy, by Natalie Tweedie. 15% of each print sale will be donated to Show Hope. $60.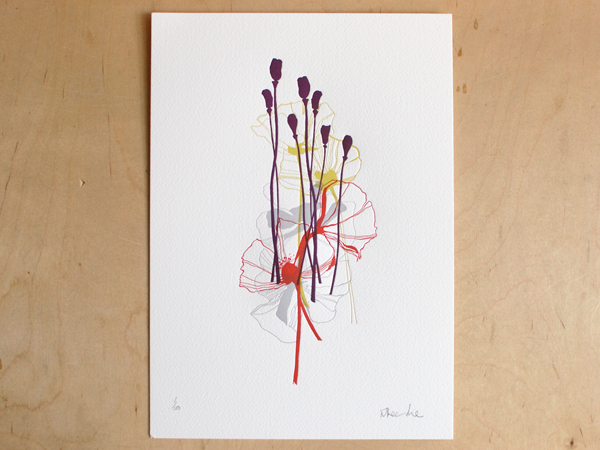 About the print (in the artist's words):
This is the first letterpress print that I have produced of my line drawings. Letterpress suits my line work so well, and I love the textural qualities that the medium provides to my artwork. I worked with a great letterpress company in the UK called Blush°° Publishing to produce this print. I chose colours that remind me of my favourite season, Autumn…
This is a four-color letterpress print on 300gsm Somerset Rough 100% cotton paper. Each print was signed and numbered by the artist.
I chose to pair my print with Show Hope. We are so lucky to have our daughter Astrid in our lives. She brings us so much joy that it seemed logical to select Show Hope as my charity.