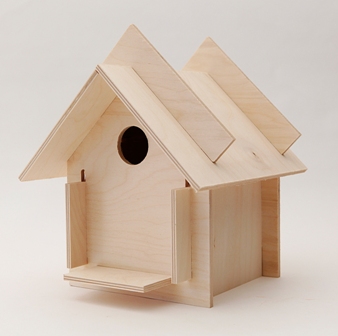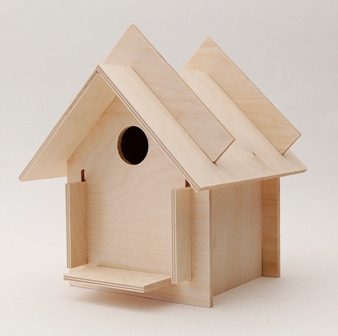 Sometimes a forgotten project, birdhouse kits are the perfect choice for school kids, youth groups, and families too. What better way to teach the importance of conservation and stewardship to the next generation? So many great lessons can be tied into birdhouse kit projects!
Innovative, fun to assemble, and totally functional, these wood birdhouse kits provide real nesting sites for wild birds. In the off-season, they make for perfect roosting spots too. Real estate is tough out there, and competition for nest sights is increasing as habitat continues to shrink. Non-native birds like House Sparrows and Starlings are to blame for much of this competition with our native song birds.
The "Box for Birds" comes in three great designs; traditional (shown here), Modern, which is a copy of the famous Frank Lloyd Wright House, and a church design too. They require no tools, or glue, and come with puzzle-like assembly instructions. The gist is sliding pieces of sturdy birch plywood that fit together in a snap! These substantial birdhouse kits may be painted, stained, or left natural. A fun project for kids and adults alike!
Please help house the birds 🙂