Hold More with a Hopper Bird Feeder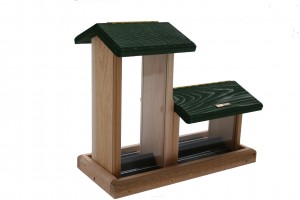 Backyard birding certainly entails some chores!  Attracting wild birds requires some effort with filling feeders, maintaining houses, and keeping birdbaths clean.
If you enjoy feeding wild birds, but sometimes get tired with the frequency of filling feeders…fret no more!  Large capacity bird feeders are the answer.  In general, a hopper bird feeder will hold more seed, they're desgned to do just that.
You can spend less time filling and more time watching with a large capacity feeder.  This double hopper feeder holds 7 quarts of sunflower or mixed seed.  They're even available in recycled materials, and built to last a lifetime.  By investing in a few quality bird accessories, you'll ultimately enhance your bird watching experiences.